ARTIST'S STATEMENT
DR. NOEL SCHWEIG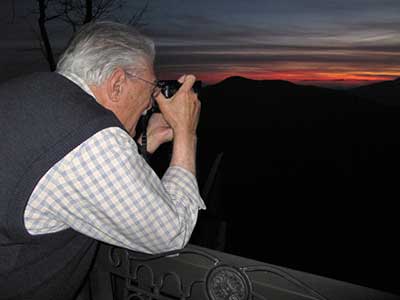 Noel wrote this artist's statement to describe his work:
"Photography has been the centerpiece of my travels throughout the world to learn about and capture the marvelous cultural and scenic diversity across continents and peoples. My professional life, however, has been occupied with becoming a physician, a psychiatrist, and a practicing psychotherapist and psychoanalyst, while photography remained largely on life's periphery.
"Then I settled in and near the Blue Ridge Mountains of Virginia. The visual rhythm and beauty of both the Northern and Central Blue Ridge stimulated me to turn serious and sustained attention to pursuing photographic opportunities in these regions using digital technology, which I only recently adopted. I utilize Leica and Olympus equipment and do not employ filters, tripod or artificial light. Despite being a resistant novice to the computer, I am able to create small and medium format prints. The larger prints that I have shown in galleries have been produced with the help of professional laboratories, which have allowed me to add my three cents and my favorite brand of fine art photographic paper. My primary subject matter is landscape and local color, literally and figuratively.
"I become most excited about the semi-hidden gems I discover in everyday natural phenomena during repeated visits to familiar mountain neighborhoods in changing seasons, weather, and light. My range of interest is as wide as tree bark to cloud formations, to embedded ancient rock material to the spontaneous congregation of butterflies drinking at a roadside puddle. The infinite variations in my surrounding environment hold the promise of future photographic challenges."